EDIT MAIN
October 23, 2019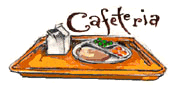 October 23
October 24
Spaghetti with meat sauce
Breadstick
OR
Sausage Pizza
Fresh Cucumbers
Fresh Baby Carrots
Fresh Apple
Pears

Popcorn Chicken
OR
Meatball Sub
Refried Beans
Fresh Celery Sticks
Banana
Applesauce
MATH COUNTS
Last call for any 6th-8th grader who wants to compete in this years Lakeland University Math meet. Please see Mrs. Parnitzke or email her if you are planning on competing and didn't hand in your form. The meet in November 11th.
**PICTURE RETAKE DATE AT MIDDLE SCHOOL**
Picture retake day at the Middle School has been rescheduled for TUESDAY, OCTOBER 29, starting at 7:45am. Please note this date on your calendars!
KIWANIS CLOTHING DRIVE
The 27th Annual Kiwanis Clothing Drive is here! From October 7th thru October 30th bring in gently worn or new clothing (infant to adult sizes) and place it in the bins located in your homeroom. The winning homerooms will be determined by the weight of clothing brought in. First place will win a pizza party, second place will win ice cream sandwiches and third place will win candy. Thank you for your generosity!
MIDDLE SCHOOL BOOK FAIR
It's Middle School Book Fair time again! The theme this year is Artic Adventure so pack your gear and off we go! The book fair will run Thursday, October 17th through Tuesday, October 22nd. We will be open from 7:15 am-8 pm. on October 17th and 22nd for parent teacher conferences and 7:15 am to 3:30 pm October 18th and 21st.